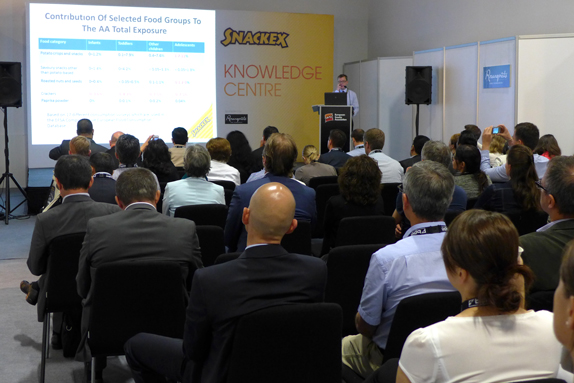 SNACKEX presents a programme of snack production workshop sessions in the show floor Knowledge Centre featuring expert speaker sessions designed to give industry executives an insight into snack production processes and regulatory issues.
The workshop programme is FREE to attend and the sessions are expected to be popular. The schedule is arranged to allow plenty of time to visit the show floor and to arrange private discussions, all within the same venue.
Workshop 12:00

–

12:25

Show Floor

New perspectives in in-process measurements for the snacks industry
Andrew Brunt, Sales Manager, NDC Technologies


Workshop 14:00

–

14:25

Show Floor

Cost reduction and sustainability through reusable distribution packaging
Fred Dowd, Managing Partner, Technology Container Corp.


Workshop 15:45

–

16:10

Show Floor

Regulatory legislation for process contaminants in savoury snacks

Andrew Curtis, Scientific & Regulatory Affairs, European Snacks Association

Workshop 16:30

–

17:00

Show Floor

How to make your snack products more authentic and clean label

Kees den Uijl, Business Development Manager, Euroma
Friday 28 June
Workshop 10:30

–

10:55

Show Floor

Innovative ideas on achieving a more intense taste experience and an attractive visual presentation for savoury snacks
Kay Schumacher, Team Manager Product Application & Development, Bösch Boden Spies


Workshop 11:45

–

12:10

Show Floor

The importance of metal detection testing in savoury snack manufacturing
Rob Stevens, Market Manager, Mettler Toledo Safeline





Workshop 12:30

–

12:55

Show Floor

Processing guidelines for non-traditional sheeted baked snacks
Ken Zvoncheck, Director of Process Technology, Reading Bakery Systems


Workshop 14:00

–

14:25

Show Floor

Optimisation of batch fried potato chip systems – energy, efficiency and oil management

Göran Wadsten, Director, Rosenqvists Food Technologies



To expedite the programme speakers may be substituted and subjects may be presented in a different running order, or on a different day than shown.