Savoury snack industry professionals attend SNACKEX to get solutions to the industry's most pressing challenges and meet others who can help improve their products. At SNACKEX you will find solutions for your most critical issues and discover new technologies and product ideas that will give you an advantage over your competition.

SNACKEX gathers the industry's leading suppliers of raw materials and ingredients, flavours, snack processing equipment, packaging machinery and consulting services in one convenient place.

Attending SNACKEX and meeting suppliers face to face is more efficient than searching for weeks on the internet and waiting for responses!

At SNACKEX you will:

• Discover the latest innovations in snack development, processing and packaging
• See new equipment and solutions from the industry's most prominent companies
• Find new suppliers that you'll want to know about
• Meet existing suppliers that you might want to touch base with
• Make the most efficient use of your time, meeting face to face with hundreds of the industry's top suppliers
WHAT'S NEW AT SNACKEX 2013?
Convenient all-under-one-roof venue
We know how important it is to have the convenience and intimacy of an all-under-one-roof venue for SNACKEX. Somewhere where business can be done and discussions can be held in an hospitable and informal environment that is close to everything going on both at SNACKEX and in the city itself.

That venue is the Swedish Exhibition & Conference Centre, the most effective meeting place in Scandinavia where conference, exhibition and hotel accommodation come together in a single property, under one roof, in a city centre location.
At SNACKEX 2013 conference delegates and visitors will have the opportunity to attend a programme of practical workshop sessions held right on the show floor in our new Knowledge Centre lecture theatre.  Best practice, practical advice, new processes, and emerging technologies will be just a few of the important topics presented. Click here to see the programme.
Click here to contact exhibitors direct through the SNACKEX website and ask questions or set up a meeting at a mutually convenient time during the event.
ESA SNACK PAVILION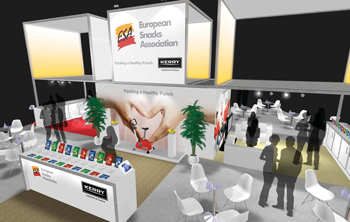 The 2013 ESA Snack Pavilion, sponsored by Kerry Ingredients, is the central learning and sampling feature of the show. Visitors will be able to sample snacks, examine packaging and discuss ingredient and flavour profiles reflecting the following themes:
Flavours beyond Borders

– demonstrating the shift in tastes across the world and how things are moving on from traditional concepts

Time to Share

– snacks for informal and formal sharing including standard versus special occasion or premium

Packing a Healthy Punch

– the momentum of healthy snacking driven by new ingredients and flavours.
WHO SHOULD VISIT THE TRADESHOW?
SNACKEX is a unique opportunity for you to access the international savoury snack industry.

Anyone involved in the savoury snack business will benefit from the array of suppliers exhibiting at SNACKEX:

• Executives trying to find new solutions to become / remain the market leader
• Decision makers involved in choosing the best processing or packaging machinery
• Engineers who identify equipment needs
• R&D staff who determine the process needs of tomorrow
• Plant supervisors who manage the production lines
• All staff members that you count on for new ideas