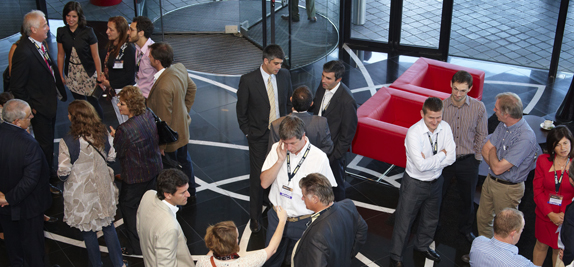 More than ever in today's rapidly changing marketplace standing still is not an option.
You need to identify, develop and realise your value propositions and unique sales messages.
To prosper you need to outperform your competition by being smarter, faster, cheaper.
Give your company an edge to meet the needs of today and the challenges of tomorrow.
The SNACKEX conference will feature a comprehensive two-day programme of expert speaker sessions designed to give industry executives and suppliers a competitive advantage in today's rapidly changing marketplace.
The conference programme aims to give industry participants solutions and guidance on the critical issues that will help them more rapidly, efficiently, safely, and successfully develop their businesses.
But that's not all.........SNACKEX is the only snacks focused event in Europe which unites the savoury snack industry in a single-destination tradeshow, conference and social platform to give attendees the edge they need to be successful in today's challenging market conditions.
WHAT'S NEW AT SNACKEX 2013?
Convenient, all-under-one-roof venue
We know how important it is to have the convenience and intimacy of an all-under-one-roof venue for SNACKEX. Somewhere where business can be done and discussions can be held in an hospitable and informal environment that is close to everything going on both at SNACKEX and in the city itself.

That venue is the Swedish Exhibition & Conference Centre, the most effective meeting place in Scandinavia where conference, exhibition and hotel accommodation come together in a single property, under one roof, in a city centre location.
At SNACKEX 2013 conference delegates and visitors will have the opportunity to attend a programme of practical workshop sessions held right on the show floor in our new Knowledge Centre lecture theatre.  Best practice, practical advice, new processes, and emerging technologies will be just a few of the important topics presented.
Visitors will be able to contact exhibitors direct through the SNACKEX website and ask questions or set up a meeting at a mutually convenient time during the event.
Estrella Factory Tour – 14 June
Estrella, one of Sweden's leading snack producers is offering SNACKEX 2013 delegates an exclusive opportunity to tour their local manufacturing plant on Friday 14 June (the day after SNACKEX closes). You will be picked up from the Gothia Towers hotel and taken by coach to see Estrella's potato chip, lower fat, and extruded products production lines in their plant in the outskirts of Gothenburg. This opportunity is exclusively for SNACKEX delegates*. Numbers are limited and it is offered on a first come, first served basis, so the earlier you register the better the chances of getting a place. Make sure you arrange you travel plans to take in the tour!

*certain conditions apply
Savoury snack industry executives not only attend SNACKEX to get solutions to the industry's most pressing challenges, they also attend to network and socialise with peers, colleagues and suppliers who together can help enlarge your knowledge base and enrich the experience of working in the savoury snacks industry.

At this 100% savoury snacks-focused event you will :

• Learn about the latest trends
• Experience conference programming that focuses on the critical issues you face in your business
• See demonstrated the latest innovations in snack processing, packaging and technology
• Address the most pressing issues affecting the marketplace
• Discover the latest innovations, products and services available to grow your business
• Discover new equipment from the industry's most prominent suppliers
• Meet experts from every sector of the savoury snacks industry
• Meet face to face with industry peers and top suppliers that you'll want to touch base with
• Enjoy top hospitality and social functions where you can mix work and pleasure

For full details of the speaker programme, please visit the conference section.