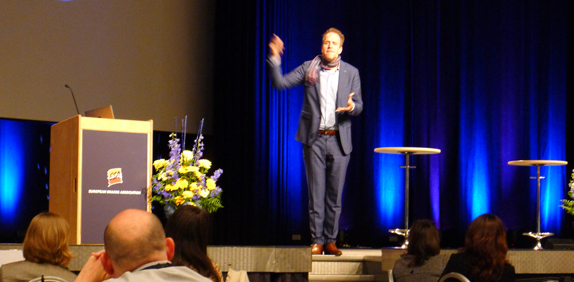 SNACKEX features a comprehensive two-day programme of expert speaker sessions designed to give industry executives insight into what's driving the market, together with information and contacts that you can take back to your business to make an immediate impact.
Please visit this page regularly for news and updates about the conference programme content and guest speakers.
All conference sessions are held in the Beylerbeyi Room, ICC level B2.
All workshops are held in the ESA Knowledge Centre on the show floor, level B5.
Tuesday 09 June
13:00

–

19:30

Conference delegate registration

Istanbul Congress Centre (ICC) Main Foyer

19:30

–

22:30

Welcome reception networking dinner

Hotel Hilton Bosphorus Pool Deck

Reception kindly sponsored by PepsiCo Türkiye
08:30

–

10:00

The SNACKEX Kick-off breakfast

Emirgan Room, ICC Level B2

Guest Speaker: Dr. David Bosshart

CEO European Think Tank - Gottlieb Duttweiler Institute, Zurich

11:00

–

12:00

Grocery retail trends and their impact on the savoury snacks industry

Himanshu Pal – Director of Retail Insights – Kantar Retail

Workshop

12:00

–

12:25

Show Floor

Extrusion technology – latest innovations in direct expanded savoury snacks

Anne-Sophie Le Corre-Lechevin – Key Market Manager, Clextral

12:30

–

13:15

Quo vadis the savoury snacks industry: health halo or fun for you – Is indulgence without guilt the way ahead?

David Jago – Director of Innovation & Insight, MINTEL

Workshop

14:00

–

14:25

Show Floor

Saving water whilst maximising potato washing efficiency

Magnus Kalling – Engineering Manager, Rosenqvists Food Technologies

14:30

–

15:30

Digital marketing – Building long-term loyalty, creating brand ambassadors and using social media to increase sales

Jeremy Shute – V-P Marketing, McCormick Flavour Group

Industry case study – first hand learning and insight into digital communications and social media

Leane Bramhall

Workshop

15:45

–

16:10

Show Floor

Flexi lines and other innovations in savoury snack processing

Joseph Zaleski – President, Reading Bakery Systems

Workshop

16:30

–

17:00

Show Floor

What does the future hold for the Turkish snack nut and dried fruit market – Is Turkey's relationship with the EU driving or stifling growth?

Mehmet Er – Director, Tadim Gida
Thursday 11 June
09:00

–

10:00

State of the snacks industry – 2015. The future of savoury snacks: impulse, innovation and convenience

Pinar Hosafci – Senior Analyst Bakery & Snacks, Euromonitor International

10:30

–

12:00

Winning through the supply chain: challenges and opportunities in snack nuts

Cyrille Filott – Global Strategist (Consumer Foods), Rabobank International

Co-operation and collaboration – solving the challenges through public-private partnerships

Richard Rogers – Bill & Melinda Gates Foundation

Panel discussion – the speakers will be joined by the following to discuss how the challenges identified can be addressed:


Brijesh Krishnaswamy – Senior Vice-President (Edible Nuts), Olam International
Arie Endendijk – Managing Director Procurement, Intersnack




Workshop

10:30

–

10:55

Show Floor

Using enzymes to reduce acrylamide in savoury snacks
Andy Livingston – Global Applications Specialist, DSM Food Specialities

Workshop

12:00

–

12:25

Show Floor

Tortilla chips made with new masa flours for innovative tastes, textures and colours

Laurent Vulliermet – Commercial Manager, Limagrain Céréales, Ingrédients

12:30

–

13:15

Obesity – bringing back the balance

Dr Franco Sassi – Senior Health Economist, Health Division, Directorate for Employment, Labour and Social Affairs – The Organisation for Economic Co-operation and Development (OECD)

Workshop

14:00

–

14:25

Show Floor

Nut pasteurisation solutions that improve food safety and shelf life
Maik Schneider – Manager Market Segment Nuts, Bühler Barth GmbH




14:30

–

15:15

How nuts deliver on key drivers that revolutionise snacking

Özden Kilic – Manager Market Analysis, Innova Market Insights

Workshop

14:45

–

15:15

Show Floor

Regulatory developments relating to the reduction of acrylamide in savoury snacks

Andrew Curtis – Scientific & Regulatory Affairs, European Snacks Association




19:30 till late

President's closing dinner & party

Park Bosphorus hotel

(Buses leave Hilton Bosphorus hotel at 19:00 sharp)